Corporate Super is an employer's second biggest funded employee entitlement which it must pay as a benefit for its employees.  However, employers miss the chance to make this cost work for them and deliver a benefit to their employees in an area that really matters in their lives, financial well being ….
CLICK HERE for the AXIS brochure of services.
… it doesn't have to be like that and we have developed a 2 step process which we work with employers in transforming the corporate super into a superior benefit that can be promoted to the whole workforce (not just members of the employers corporate default plan).
Step 1 – Evaluation and Improvement of the benefit to create a promotable plan
Step 2 – delivery and measurement of workforce penetration and provider service delivery
It can be shown diagrammatically as follows …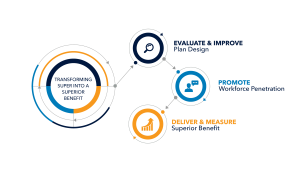 Further explore how we do this at the following link …