Superannuation is the second largest benefit an employer provides to employees and its sole purpose is to provide your employees with income in retirement. Best practice employers offer
workplace benefits to attract and retain talented employees…
…but why do most employers miss out on the opportunity to use super to create a superior benefit for their employees?
AXIS has developed a methodology to work with employers to transform super into a superior benefit for its employees. The transformation follows a step by step process of evaluating the
plan design followed by promoting it to the workforce, then ensuring the servicing is delivered to individuals needs and measured to appropriate key performance indicators.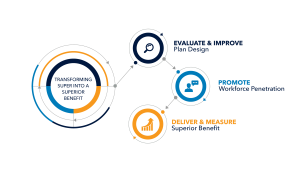 Click on one of the links below to read more about our suite of services.