Superannuation and the Royal Commission
Posted
September 17, 2018
Risks to Employers – what employers should do next.  The review is over, but what does the Review mean for employers???  Companies may react prematurely and potentially move billions of dollars from what they believe are underperforming funds and do the right thing by staff and ensure that their default fund is an appropriate product.  That may not be the right approach …. and, unless an employer understands the details of the plan design and service delivery, they cannot make a decision on which fund to choose.  An employer should
Evaluate and improve the plan and benefit design;
Deliver and measure the providers service
Today, we look at step 1 – the evaluation and improvement of the Plan and benefit design.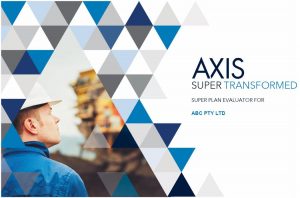 You can get access to a specimen of our Super Plan Evaluator Report  CLICK HERE
Employers often miss the opportunity to make superannuation work for them because the plan design and service delivery are not structured in a way that the corporate super plan can be promoted to the workforce as a superior benefit.  A superior benefit is one that maximises employees' superannuation balances and income in retirement in line with their goals.  Done well, the employer will be seen as caring for its workforce and hence a well-designed and delivered plan can become a motivational tool, making the cost of super work for the company.
The traditional way super is delivered can be reinvented. The modern approach is to improve the design, promote the plan well to the workforce and ensure delivery is performance managed so that the benefit is, and remains, superior for the employees.  AXIS' approach is to work with employers to transform their super into a promotable superior benefit by evaluating and improving the plan design, promoting the plan to the workforce and performance measuring service delivery.
The modern approach to transforming super into a superior benefit ….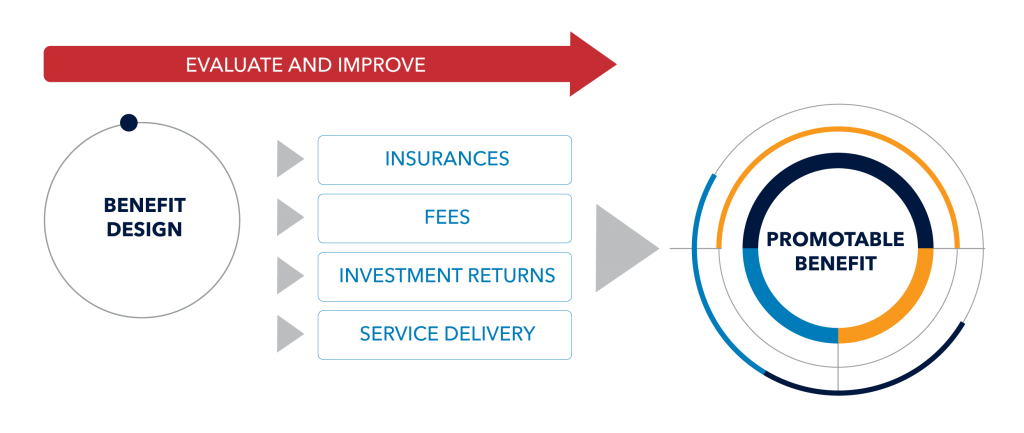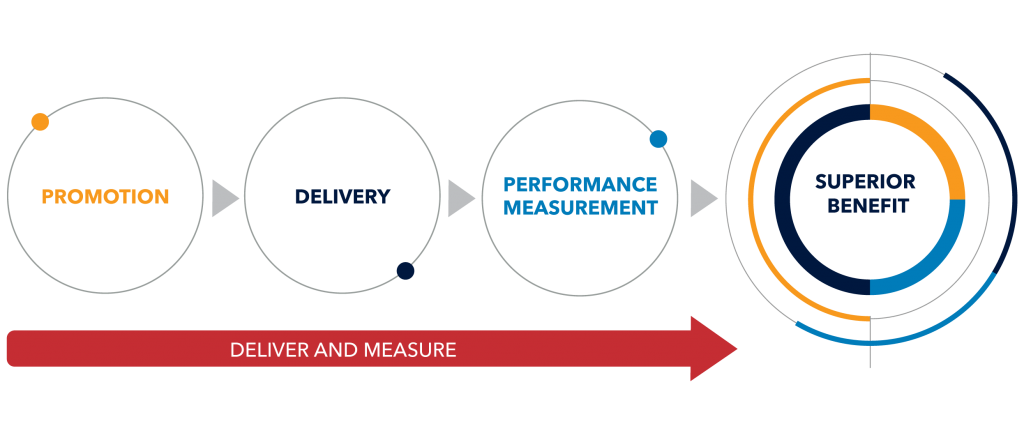 The starting point in any change is to evaluate the current situation.  No change can happen unless the current circumstances are known by reference to technical data which can be used to review and assess the areas which need to be improved.
Super is a complex area and hence AXIS has developed a comprehensive actuarial approved algorithm and process so that meaningful observations can be made on the plan design, workforce penetration and service delivery model.
A review should provide data in the following areas:
Details of existing plan design including fees, costs and insurance premiums;
The degree to which the super arrangements are accepted by the workforce (penetration), highlighting the participation rates at various age groups;
An analysis and commentary of the service model;
Comparison between potential super arrangements based upon plan fees, insurance premiums and targeted/actual investment returns;
A comparison and commentary on the impact on employees of the plan design, returns and delivery model;
Recommendations on how the super design, promotion and delivery can be improved so that it becomes a promotable superior benefit improvements.
Armed with technical data, analysis and comparisons an employer will be in a position to negotiate improvements in the plan design and service delivery with the current provider or should you desire, approach the market for proposals from alternative providers.